The first time my son opened IXL Math and started practicing math, he said, "I actually learned something I didn't know.  If I had seen this on the test I would not have known what they were talking about even though I really knew how to work the problem."  I thought that was a fascinating insight from my eleven-year-old.  The only problem we have with our current math curriculum is that our children don't learn the correct terminology or see word problems that mimic standardized testing.  IXL Math fixes that problem and makes a great addition to our math program.
I have two children who are using IXL Math successfully right now.  One is my eight-year-old Anna who struggles to read.  She really benefits from the fact that the questions have audio clips.  I am so thankful for that feature.  On the website, it says that the audio clips are only through 1st grade.   I only have one laptop that will work for math right now and I have actually had the two children arguing over who got to use IXL Math first.  While Anna enjoys working the math problems, she is a little put out that the prizes are not more interesting.  Every time she works for a specified length of time, she gets a gold medal and gets to reveal another prize on the prize board.  It's a little like putting a stamp on a collection card.  Each prize revealed is a picture of an animal or some other object.
The second child I have using IXL Math is my 11 year-old-son Jonathan.  Jonathan really enjoys IXL Math and is old enough he doesn't really care about the prize system.  He thinks it is goofy, but that doesn't affect his attitude about using the program.  He has actually revealed enough prizes to replace his avatar and make it a little more "cool."  It's just not a big deal to him like it is to Anna.  He is excited to actually be learning new things and is stretching himself now and picking topics he hasn't covered in our regular curriculum (like comparing numbers up to billions).

One thing I really like about this online math program is the fact that  you have access to all of the levels for each child (prek through pre-algebra).  Each level has over 100 topics, and altogether you will find over 2000 topics!  So if your child wants to work ahead of his grade level he can.  It actually took me a little while to figure out where my kids should be, but eventually I just started letting them pick what to work on.  As long as they are working at or above grade level, they can pick any of the topics they want.  The prize board does help students choose what to work on, because if you hover over an unrevealed prize it tells you exactly what you have to master in order to reveal that prize.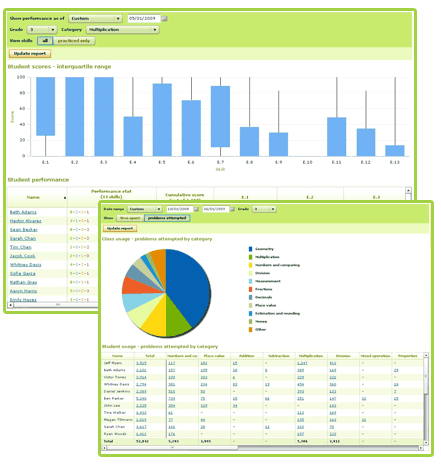 Something else I really like:  the reports for Mom and Dad.  Each week, I get an email telling me how long my child worked (how many minutes) and what my child worked on. If I need more information, I can log into my Mom account and see several different reports showing me exactly what each child worked on and where he/she needs improvement.  I can also print award certificates from this section.
I tried using IXL Math with my six year old son, but he really struggles to use the laptop mouse and does not enjoy using the curriculum.  I think this is because of his age (he just turned six) and I definitely think this would work better for him if we had a handheld mouse instead of a trackpad.
My Bottom Line:  Pricing for family memberships starts at $9.95/month or $79/year. Each additional child costs$2/month or $20/year.  While my children are enjoying IXL Math I have not decided yet if I will renew our membership at that cost.  As we reach the end of our subscription I will get input from my children and make a decision.  My son is already lobbying for a continued subscription.
Disclaimer:  I received a six-month subscription to IXL Math for three children at no cost to me in exchange for an honest review on my blog as part of the Schoolhouse Review Crew.  Here you have my honest review.