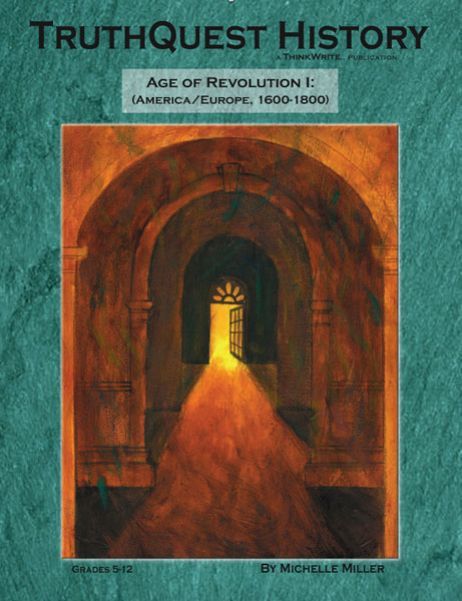 Do you enjoy using living books to teach history to your children? Do you prefer older books written before 1920? Are you interested in teaching your children history from God's perspective of His Story? If you answered yes to any of these questions, there is a good chance that TruthQuest History will be a good fit in your homeschool.
Let me tell you how it works for us. TruthQuest contains a series of essays as you progress through the time period your are studying. These essays  encourage students to "submit our thinking to the plumb-line of God's thinking."   Following each essay is a list — a huge list — of living books. A few of these books are considered "spines" and you can pick one or two of the spines to for the backbone of your reading. Beyond that, you simply need to read as many or as few of the literature selections as you would like to read. Even with fanatical interest in a topic, you might not run out of possibilities with these lists!
That's it. It sounds really simple doesn't it? I find beauty in this simplicity. Because many of the books suggested in TruthQuest are public domain — you can find free or inexpensive copies for your e-reader or even to read from your computer. Many of the books can also be located in the public library. I was even able to find some of the books on audio for free! The essays themselves are thought-provoking even for children. The first time I sat down to read one of the essays I was a little nervous because I had an 8 year-old, an 11 year-old and a 13 year-old all listening together. To my surprise, they all three were able to follow along, stay engaged and respond to what we had read when questioned. They gathered near and listened intently. They didn't fuss at me or argue! Curiously, even though we had been studying that section of history with our previous curriculum, the essay I started with was all brand new material. My children had never heard of the people (John Brown) and events mentioned. I must confess, even I learned a few things! I could read aloud some of the books to my eight year-old, and sometimes her older siblings would listen in. Michelle includes suggested reading for all different ages and those were very useful to us! I could hand off my Kindle to the big kids and let them read some of the books on their own. I picked one of the spines for upper elementary and read that to my eight year old.  Even if my eight-year-old was not using this program with us I would still read aloud the essays to everyone. By doing so I keep my finger on the pulse of what they are learning and we are able to converse about the material presented as we go.
"God's initiation and our response…that's history.  To the degree that we choose to believe and obey truth, to that degree our lives are blessed, our nations free and healthy, our science beneficial, our laws wise, our businesses prospering, and our art glorious.  Each of these spheres of life cannot be understood without grasping the spiritual issues at their base.  Again I say, now that's history!" (Age of Revolution II -Notes for Dad & Mom)
My Bottom Line: The goal of TruthQuest History as I understand it is that your children will end up looking at history through a God-centered lens.   That is a big deal to me. I found this curriculum worked really well with a broad-age range and is great for a larger family because the cost can be kept low and everyone can learn history together. This is also a big deal to me! The price for Age of Revolution II (one year of study) is $29.95 for a spiral bound book, and $24.95 for a PDF copy. Notebooking pages are also available! I think this is a great curriculum with a great price.
Disclaimer:  Age of Revolution II was provided to me as part of the TOS Homeschool Crew, at no cost to me, in exchange for an honest review on my blog.  All opinions expressed are my own. Here you have it.  You can read what my other crew mates have to say about several of the products carried by Truthquest History here.